QA/QC Overview
We are dedicated in delivering the highest quality services and realizing our clients' goals and expectations on every project, regardless of size or complexity.
To ensure quality control from Engineering, Procurement, Construction, Commissioning and Maintenance, we have developed a strict QA/QC Program, which adheres to ISO 9001:2015 standards and best industry practices.
Our QA/QC program guarantees to incorporate the highest degree of quality into all our products, services, and systems.
Our employees recognize the importance of Quality, and we implement Quality Management from the start of every project and ensure its continuity through to completion.
We believe that providing meaningful quality products, services and facilities to our customers is one of our core pillars.
To maintain our position as the leading regional contractor for delivering quality products, solutions and services in the field of EPIC and Maintenance for the oil and gas, civil and infrastructure industries.
Certifications
In pursuit of excellence Qcon operates a Quality, Health Safety and Environmental Management Systems that are certified by a Third-Party Certifying Agency to ISO 9001:2015, ISO 14001:2015 and ISO 45001:2018.
Qcon is also certified by ASME for the manufacture of boilers and pressure vessels under U, U2, S and PP stamps, and National Board for the use of R-stamp for repair of boilers and pressure vessels.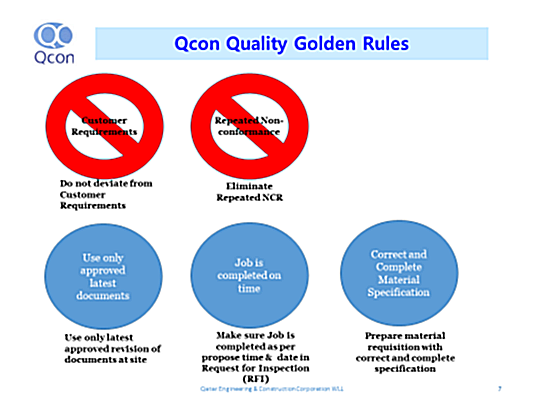 Quality Policy
Qcon aims to provide its customers with the quality of goods and services that meet their required standards and purposes. We will always try to exceed their expectations and recognize that the customer values quality.
We will focus on continual improvement of our performance, especially the areas that our customers identify as most important to them.
We will strive to continually improve our working environment and practices, settings objectives to assist in achieving our aim; we will measure achievement of these objectives and the effects of improvements upon our customers and ourselves.
The implementation and maintenance of a Quality Management System that conforms to the requirements of ISO 9001 is fundamental to our quality programme
Capabilities and Competencies
Numerous Qcon qualified welders employed with multiple Process qualification such as: Numerous Qcon qualified welders employed with multiple Process qualification such as:
• GTAW
• GTAW+SMAW
• SMAW 6G
• GMAW
• SAW
• FCAW
All welders' qualification process were witnessed and welder performance qualification Certificate signed off by Third Parties' Inspection Agency.
Competent QA/QC Personnel
Qcon employs a well-qualified QA/QC personnel which are Engineering Degree holders and having internationally recognized qualification such CSWIP 3.1, CSWIP 3.2 & AWS for welding inspection, NACE & BGAS for painting inspection and ISO 9001 QMS Lead Auditor for auditor certifications.
Qcon also boast of having competent in-house ASNT Level III personnel and NDT Technicians who have ASNT Level II certification.
Procedure Qualification Record
Qcon has expertise in the preparation of Welding Procedure Specification (WPS) and Procedure Qualification Record (PQR) having completed numerous WPS/PQRs that were Third Party witnessed and approved for different materials and process such as:
GTAW including Superoot
GTAW+SMAW
SMAW
GS FCAW
SAW
FCAW – Machine
GMAW
Stud Welding
Brazing
Carbon Steel To Carbon Steel
Stainless Steel To Stainless Steel
Inconel To Inconel
Low Alloy Steel To Low Alloy Steel
Titanium To Titanium
Carbon Steel To Stainless Steel
Carbon Steel To Alloy
Stainless Steel To Alloy
Monel To Carbon Steel
Monel To Stainless Steel
Inconel To Stainless Steel
Copper Nickel to Copper Nickel
Aluminum to Aluminum
Super Austenitic stainless steel to Super Austenitic stainless
3 ½ % Ni to 3 ½ % Ni
9 % Ni to 9 % Ni
Super Duplex stainless steel to Super Duplex Stainless steel
As of to date Qcon since 2012 actual weld repair-rate is less than 1% (Joint wise) across all company's work sites.
Qcon operates it own Welder's Training School for training and pre-qualification of welders. The school has an area of 1,200 square feet and has 25 welding booths equipped with advance welding equipment and accessories, which can accommodate 25 welders at a time. Each both is equipped of the following:
300 Amp (Welding Inverter with HF Facility)
Argon Gas Supply
Holding oven and other hand tool outlets.
The training centre has its own facilities for bevelling pipes and plates. The basic welding processes being taught are:
Gas Tungsten Arc Welding ( GTAW)
Shield Metal Arc Welding (SMAW)
Flux Cored Arc Welding (FCAW)
Gas Metal Arc Welding (GMAW)
Submerged Arc Welding (SAW)
Fully Equipped Fabrication Facilities
Qcon operates two (2) Fabrication Facilities which are strategically located to provide ease in logistics to the projects in Ras Laffan and Messaied Area.
Messaied Marine Fabrication Yard
The fully equipped and operational Marine Fabrication Yard is located in Mesaieed, approx. 50 kms South of Doha city. The Yard has 4500 square meters of fully equipped covered workshop, a 220 meter long marine jetty suitable for berthing marine vessels (jack-ups, workboats, barges, tugs etc.), and loading structures. It is capable of accommodating vessels of up to 6.5 meters draught at low tide; and loading out heavy structures and integrated topside decks with a maximum weight of 9,000 tons accomplished over a piled concrete launching pad.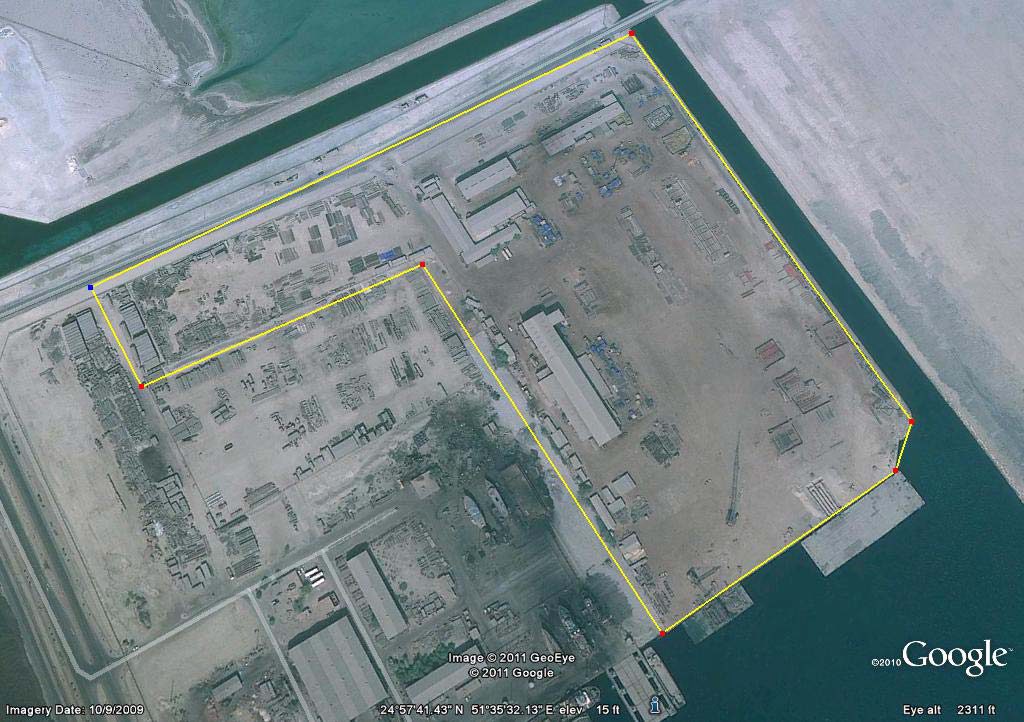 The yard has an open fabrication area of 135,500 sqm for the assembly of all jackets and decks small and large size components with 22,000 sqm used as material storage area to accommodate the projects Bulk materials. The production capacity of the yard is:
Annual Production Capacity ( Marine Fabrication Yard)

Piping Fabrication
72,000 inch dia per annum
Structural fabrication
14,000 MT per annum
RLIC Fabrication Shop and Maintenance Facilities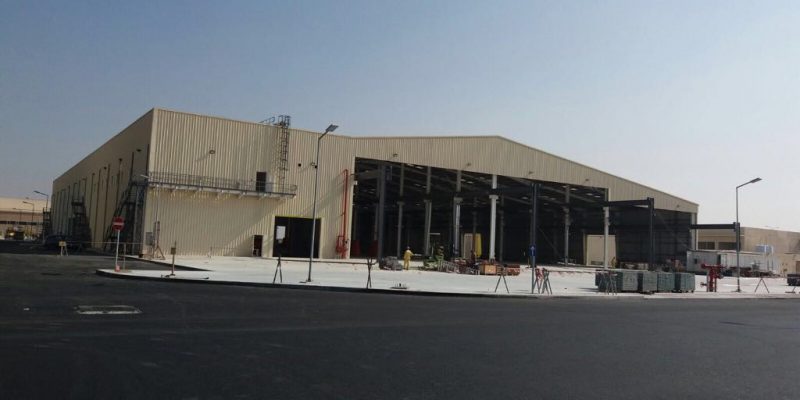 The fabrication facility at the Salwa Industrial Area has a covered area of 2,200 sqm and an open area of 12,540 sqm, which is located 10 kms west of Doha City Centre. The fabrication facility has separate covered area for fabrication of carbon steel and exotic materials and has an annual production capacity of:
Annual Production Capacity ( Salwa Fabrication Shop)
Piping Fabrication
100,000 inch dia per annum
Structural fabrication
2,000 MT per annum
Vessel Fabrication
12 nos